Get Pre-Qualified in seconds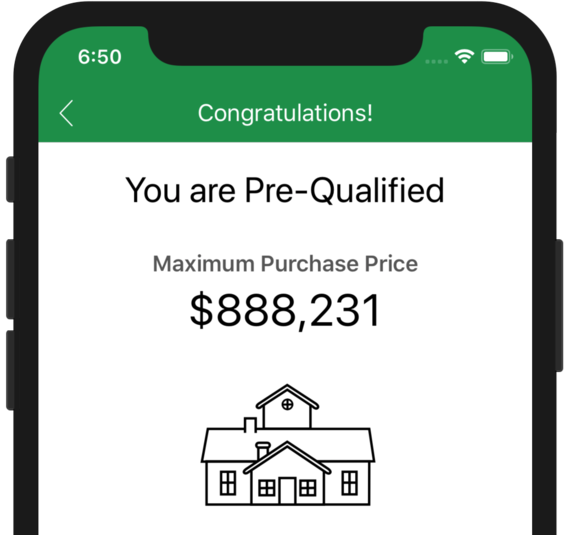 Calculate the maximum home price you can afford without affecting your credit. Generate a detailed report that you can share with your Realtor or Mortgage Broker.
Budget
Better
Easier
Faster
What is your monthly cost?
Our Purchase Calculator doesn't just stop at mortgages. We'll take into account all your home ownership expenses.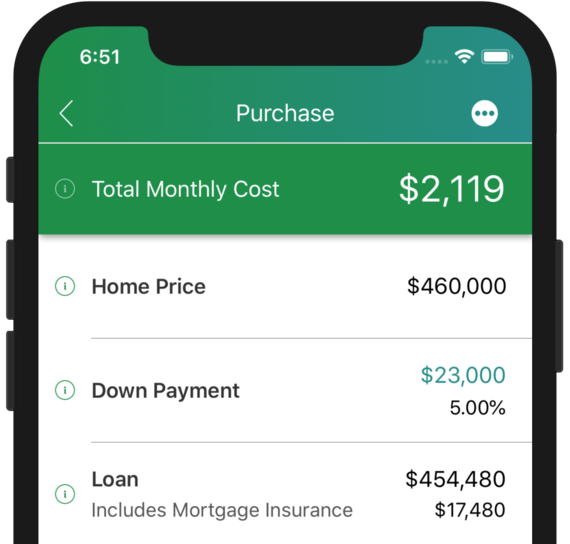 No Stress with Stress Test
Calculate payments in real time for all payment frequencies and see how much interest you pay or how much you save over the term of your mortgages.
Analyze with just a swipe
View how much mortgage you have left in every year over the term or full life of your mortgages.
What if you increase payments?
Increase payments by a percentage, a custom amount or apply a lump sum and find out how much interest and time you'll save.
Compare scenarios side by side and win
Place two scenarios side by side and change as many variables as you like. Instantly calculate differences in interest, loan paid or time savings.
Visualize how loan, interest and principal behave over time. Run your finger on the graph to extra more information.
Avoid surprises with true closing costs
How much cash do you really need?
Our Closing Cost calculator has been developed with the consultations of thousands of professionals.
by Canadians for Canadians
Land Transfer Taxes and Rebates
We support all our Canadian Land Transfer Taxes, first time home buyer rebates and foreign-buyer tax calculations. That's more than 100+ municipality rules and regulations.
Canadian Mortgage App reports can cover a wide range of topics, from your total monthly costs, amortization table, land transfer and closing costs among many others.
Get in Contact with a Mortgage Professional
Speak with a Mortgage Broker
Whether you need a pre-approval, looking to renew your mortgage or refinance, the Canadian Mortgage App is introducing a new modern way to request to speak with one of our mortgage partners.
You can now find Local Experts (Realtors or Mortgage Brokers) any time, any place from your phone.
Just type in your city, their name or company, and our app will magically display nearby expert.
Receive Alerts in your Phone
This is great for improving your user experience with the Canadian Mortgage App. You can recieve relevant and personalized content.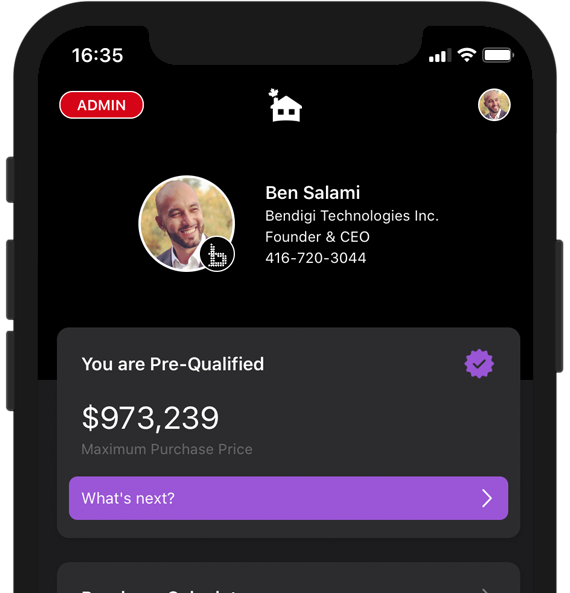 Dark Mode, Other Languages and More
We are always adding new tiny enhancements to improve your experience. Dark Mode, Other Languages and more customizations.
Are you a Realtor or a Mortgage Broker?
You'll love the Personalizations
Our PRO subscription lets you personalize CMA and offer it to your clients, stay in touch and generate new business with our Local Expert listing.
Quick summary of things you can do