What is the Purchase Calculator?
Our purchase calculator has everything you need to estimate your total monthly cost of a purchase. It includes thing like property taxes, mortgage payments, heat and condo fees and lots of cool features to determine your loan amount, minimum down payment and whether you need mortgage insurance or not.
In fact, the purchase calculator is the first tool that was ever created on CMA. It's flexibility, ease of use and comprehensiveness contributed to over 10,000 5-star ratings on the app store and google play. Oh yes, it's also featured by Apple and picked by Google as one of the top five apps for home buyers.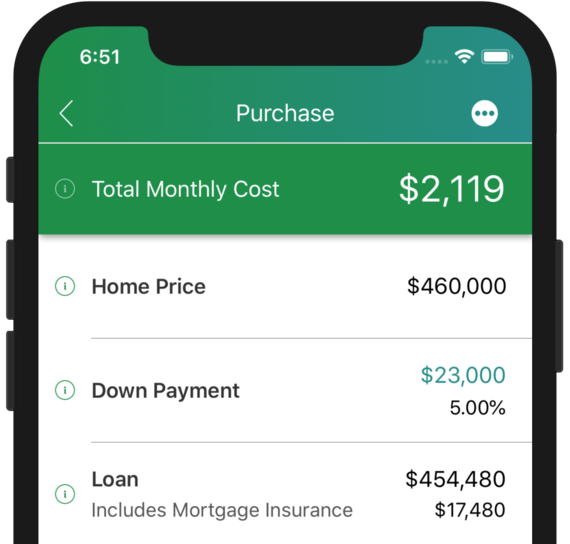 Enter the home purchase price, set your down payment and watch the app work its magic. 
It will quickly tell you whether insurance is required and what the payments would be for a specific rate.
Down payment can also be entered in various ways.
Multiple ways to enter down payment
CMA is super flexible. You can choose to add in your down payment as a % of the home price, for instance, you may decide that you only want to put 5% or 20% as a down payment. If you know the amount you can enter it in $.
Additionally, you can let the app calculate the minimum required for the given home price.
You get to see a complete overview with all frequencies pre-calculated for you. Looking at the entire spectrum of possibilities not only lets you choose which the right option for you but also why it's the right option.
Things that help you see what payment frequency is most advantages are the total interest and total savings with the principal & interest break down.
What about Mortgage Insurance?​
CMA automatically calculates loan and mortgage insurance (MDI) also known as CMHC, using the home price and your downpayment.
If needed, the insurance premium is automatically added to the loan value, and your payment is recalculated. 
In some cases where the rules don't apply to you or the app determines that you won't qualify for mortgage insurance, it educates you with simple to understand messages.
Quickly view the loan remaining at the end of each year, principal and interest paid in a specific year. Click on any year to dive deeper into the details. Learn more
Increase payments or add annual lump sum prepayments and learn the difference. Analyze the impact of increased payment per payment frequency. Learn more
Visualize how loan, interest and principal behave over time. Our premium graphs animate and responds to touch so you know exactly what to expect.
Choose from a wide variety of lender rates as a basis for you calculations. You can further filter and find a rate that you can apply for when you are ready.
You can generate beautiful reports and share them via text message or email. The email reports also attach a PDF so that you can later print it for your convenience. Learn more
This feature lets you compare two possible scenarios side by side, and instantly see differences in interest, the principal paid and the time it takes to pay off your mortgage. Learn more
Are you looking at various scenarios and want to keep them saved. In CMA, you can save and unlimited number of scenarios that you can load on any other device you have the app installed.
Sometimes we won't know the exact amount of the property tax to use when estimating our total monthly cost. Luckily, we have developed a way for the app to estimate the property tax by location. 
With an interest-only loan you would only pay the interest on the loan, not the principal. This results in lower monthly payments for a fixed period. Learn more
Quick, easy and accurate
Simply Powerful