What makes a Mortgage Broker Successful
Success in the Mortgage Industry is and always has been a challenge. Being a Mortgage Broker is an appealing career choice, but definitely not an easy one.
There are so many different things to learn and as soon as you feel comfortable, everything changes under your feet, like new lender conditions, new credit score reports, new stress test rules, new exceptions, new regulations, etc. 
You must also push yourself to the limits because of the growing competition in the market. It's challenging enough and you must continue to learn and innovate.
Talking about innovation, guess what? You are definitely not alone!
We face very similar challenges at our development lab. In addition to keeping our mobile platform running smoothly, we also need to learn all the new rules across all provinces as soon as they are introduced. We carry the responsibility to innovate new ways and maintain an up to date mobile platform for more than 40% of all licensed agents in Canada.
So what makes a broker successful in this digital age? We decided to analyze the 2020 Canadian Mortgage Award Winners, and see whether we can identify commonalities among the leaders of our industry. 
We were thrilled to find out that 12 out of 17 winners have a customized mobile app with us. You would think that this is just a coincidence right? Maybe, but it's hard to believe that 70% is just a mere coincidence. Because we don't believe in coincidences, we researched more interesting information about how our lives and behaviour are changing.
COVID-19 Has changed Customer Behavior on Mobile Forever
The COVID-19 pandemic has ultimately changed life as we know it. From gaming to shopping to engaging and connecting with your clients, mobile has become the center stage in our lives. 
"The average user spent 27% of their waking hours on Mobile in April 2020 — 20% more from 2019″
All of these new app habits have permanently changed the relationships and interactions between consumers and businesses. Check out the increase in consumer demand and usage of mobile app in 2020:
Mobile app technology has become more and more popular and necessary in the Mortgage Industry. Custom apps provide seamless and straightforward customer service and increase client loyalty. Also, thanks to technological innovation, customers can engage with your brand at any time.
Final Thoughts (what's next)
Mobile apps are not the future but the present of the real estate and mortgage industry. If you are still apprehensive of this new transition, we want to conclude by mentioning a quote from Charles Darwin:
"It is not the strongest or the most intelligent who will survive but those who can best manage change"  
If you are ready to Go Pro, do it today. If you would like to discuss whether a PRO subscription or a Custom mobile app is a better fit for you or your brokerage Book a live demo with us.
Meet all of the 2020 Mortgage Award Winners with an app
2020 New Brokerage of the Year Award
Having a mobile app is super essential in today's mortgage market and has been part of our recent success as our mobile app has empowered our clients and has made the mortgage journey a hand on experience that they love."
Outstanding Customer Service Award
*We have seen great value in having an App! It's a fast and effective way for us to qualify clients in seconds + gives us yet another tool to continue to offer our clients exceptional, industry leading customer service"
Broker of the Year Private Lending Award
"When working in demanding markets with Top Realtors and busy clients, using technology like the Canadian Mortgage App to speed up the mortgage process and communicate quicker with these clients and referral sources is a huge advantage"
2020 Woman of Distinction Award
"Technology is huge part of a Mortgage Agent/Broker Success. A mobile app is a component of that technology. What I love about the Mortgage Centre mobile app powered by the Bendigi Technologies, is it helps mortgage agents create a modern experience to connect with not only clients but also referral sources. Provide a personal Pre Qualification for your clients by either walking them through it over the phone or giving your clients the power to house shop, while always knowing where they stand financially with the mobile app. Give your referral partners the power to provide their clients the options to compare mortgage amounts and that piece of mind with homeownership. Bottom line differentiate yourself in the market and this technology will help you do that in so many ways. "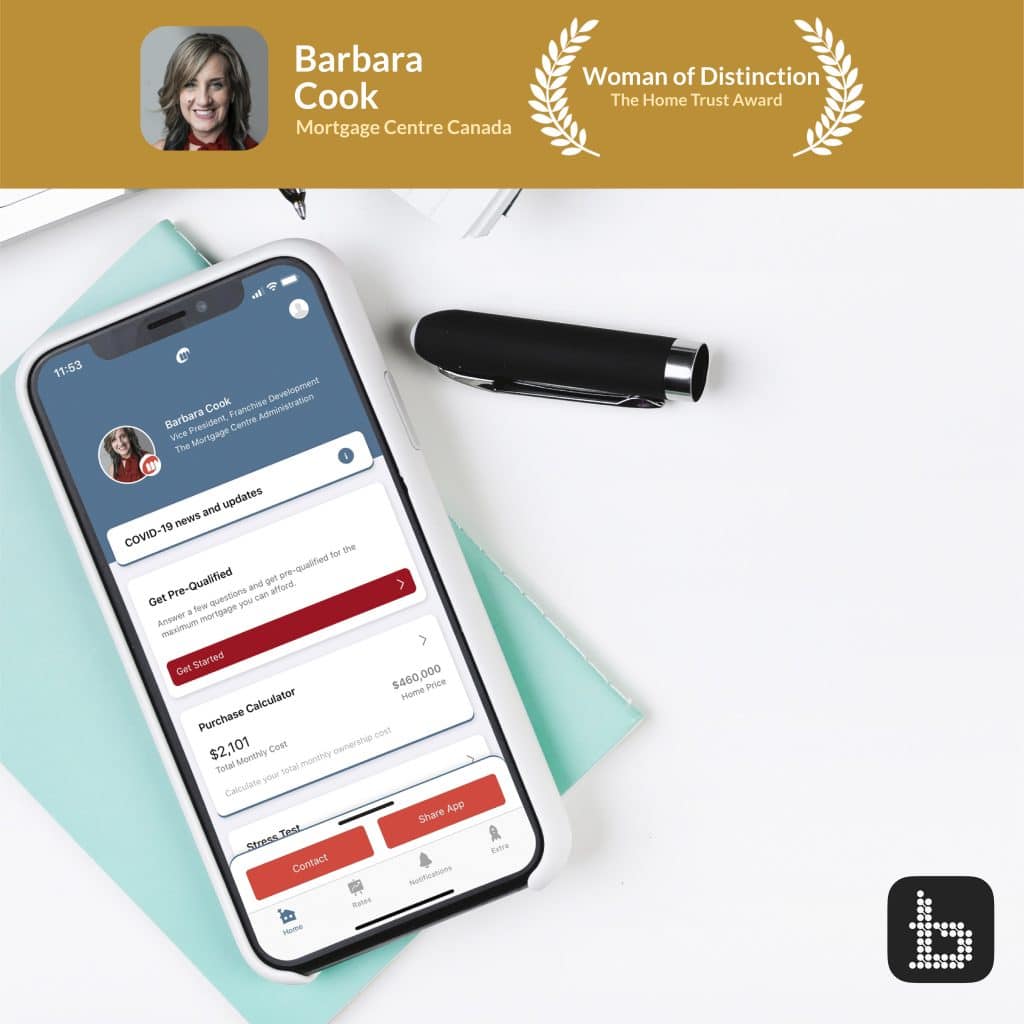 2020 Brokerage of the Year (GOLD)
2020 Brokerage of the Year (SILVER)
Outstanding
Customer Service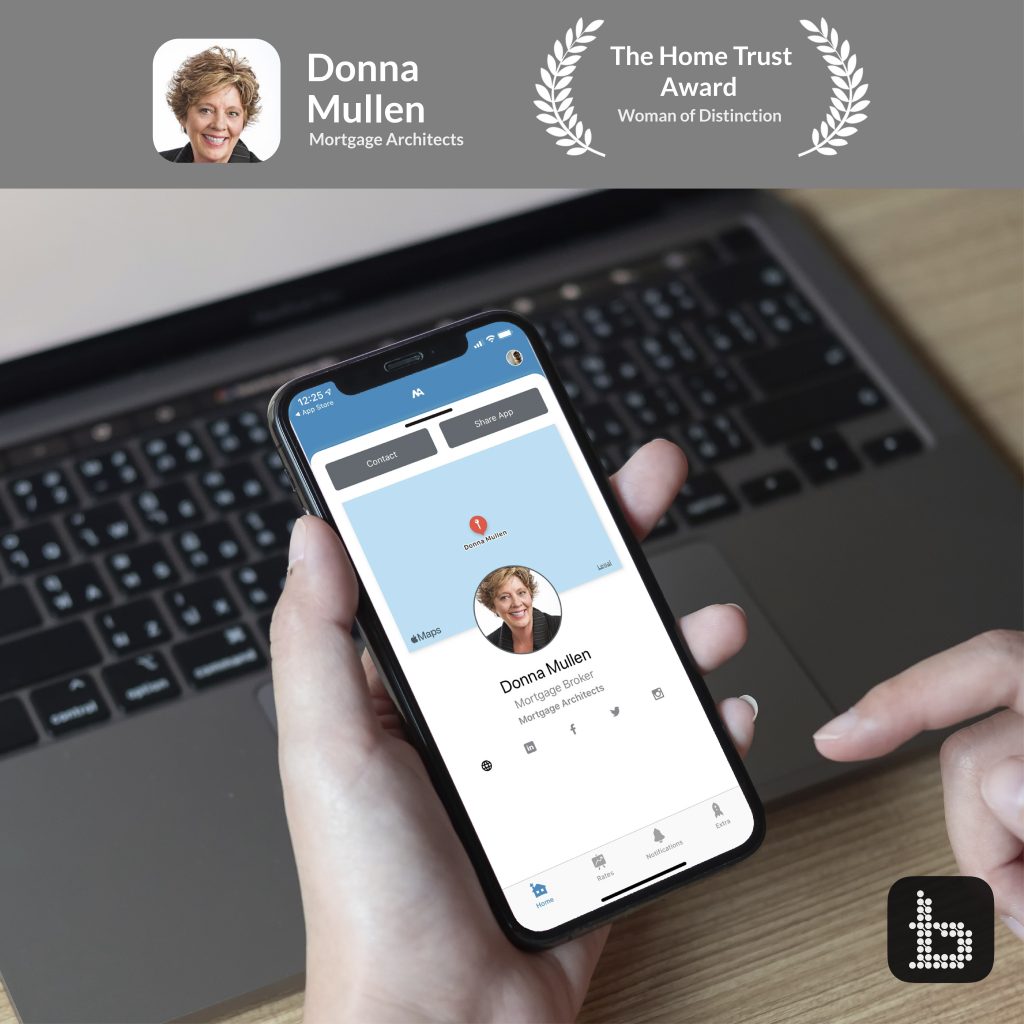 Excellence in Philanthropy & Community
Young Gun
of the Year 2020
Digital Innovator
of the Year 2020
Alternative Broker Specialist
Quick, easy and accurate.
Simply Powerful.