The Stress Test Rule depends on your mortgage goal and based on your goal, you will be qualified with a different Qualifying Rate (aka Stress Test Rate).
For example:
Purchasing over $1 million
If you are purchasing a property and your house price is over $1 million, your stress rate will be the greater of the BOC rate (Bank of Canada's benchmark rate) or the quoted rate + 2%, This is because it can not be insured.
Purchasing less than $1million and insured.
But if you are buying a house less than $1 million, and it's insured then it's the greater of BOC or the quoted rate without that extra 2%.
What does it mean the "greater of …."
Say you are purchasing a house over $1 million and you get a rate quote for 3.5% and say that the BOC rate was 5.14% on that day. The greater of BOC or Rate + 2% means you'll get qualified either with:
BOC 4.79% or
Your rate (3.5%) + 2% which is 5.5%
Obviously, the second rate of 5.5% is greater, so that will be used to qualify you for your mortgage.
What does it mean to "qualify you …"
That means you'll be able to afford the mortgage payments even if the rate was the qualifying rate, (which is often higher).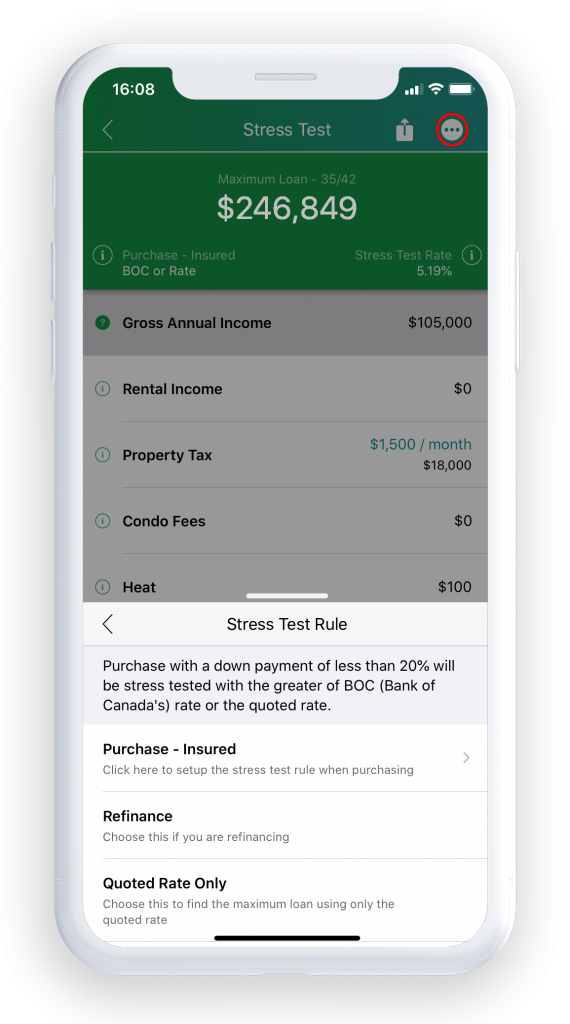 How does it know I can afford it.
Well, that's when the GDS/TDS kicks in. The rule is that your purchase related payments (mortgage, heat, etc..) has to be less than or equal to specific percentage of your annual gross income.


The percentage is called GDS (gross debt service) and it changes based on the lender's requirements. Sometimes it's 32%, 35% or even 39% but some lenders may even go above that.
Configure your settings using the options button
Quick, easy and accurate
Simply Powerful